HV-Class
The HV (HIGH VOLUME) class
Designed and engineered to satisfy a specific market demand, the HV Series is based on high free volumes in the melting chamber.
This concept allows for the highest production performance for compounds requiring a low specific energy.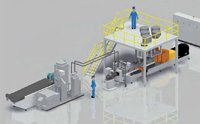 Special extruders for production of reactive or thermo-sensitive compounds (eg. XPE, PVC, Halogen-free) are also available in three versions:
Clam-shell Barrel
Sliding Barrel
Cascade Design where a co-rotating extruder is combined with a short single-screw discharge extruder for added pressure build up prior to pelletizing.
HV
D/d Nominal ratio 1.8
Nominal Specific torque Md/a3 10.5 Nm/cm3
43HV
55HV
64HV
76HV
85HV
99HV
116HV
Screws diameter
mm
43
55
64
76
85
99
116
Max. screws speed
rpm
1800
1800
1800
1800
1800
1500
1500
Motor power
hp
181
402
603
1072
1475
1984
3217
Motor power
kW
135
300
450
800
1100
1480
2400
Torque per shaft
ft./lbs.
260
580
875
1560
2150
3470
5629
Torque per shaft
Nm
358
795
1192
2120
2915
4708
7632